System Restore from Microsoft Windows creates a hidden folder in each partition with the name System Volume Information. There System Restore save all the important registry changes, save some deleted executable or dll files, save the computer settings for a certain moment called Restore Point, so if you want your computer restored to a earlier date in time, the information from System Volume Information folder is used. The big problem resides in fact that the viruses loves to hide themselves in this folder, due to the advantages it offers for viruses : this folder is hidden and protected by the system . There is two ways for viruses to infect this folder :
-directly, adding an entry in it, to be sure they will run in case of restoring Windows to a earlier date
-Windows itself can save there a virus copy if some malware files get deleted and Windows decides that the file was important and it automatically stores it there, in case you ever want it back.
To prevent all these, and for a better protection of your computer,  my recommendation is to turn off System Restore and to use an alternative.
A better alternative to System Restore is  a Backup & Recovery program for your hard disk partitions. A such program can create an exact clone of your hard disk or of a single partition–it's recommended to back up at least the partition where is Windows installed, and save it on another partition. This program operates by taking up a snapshot of your hard disk so that you can restore your system at a later time to the exact same state the system was when you cloned the disk or partition.
At a later time, when you decide the Windows is overloaded with junk from the uninstalled programs like abandoned files or registry entries, you can restore the whole active(Windows) partition from the backup created. All the Windows users knows that after several months of running Windows it gets slower and slower even if they doesn't install and uninstall many programs, and they notice the folder where is Windows installed gets bigger and bigger in size.
That's from the way Windows operate, but you can always restore the Windows partition from the backup and the things will be  like after a fresh install, with the condition to back up the partition immediately or soon after a fresh install.You can selectively backup and restore (say) your documents and email while omitting other files and directories.  The advantages are obvious, a fresh install of Windows can take several tens of minutes and to restore a partition can take just a few minutes, usually 5-6 minutes. Other advantage, the backup is created with all your drivers or preferred programs already installed, so after a backup restore, the computer will be fresh, clean and ready to operate in minutes. A backup is also good in case of a hardisk failure.
Backup & Recovery Free Edition from Paragon is a such tool.
Backup Features
-Cyclic Backup – complete infrastructure for establishing a self-acting data protection system, fully compliant with the set-and-forget backup policy
-Support for the latest hardware as well as hard disk partitioning schemes
-Support of all present day techniques to store backup images
-Disk backup to save not only all on-disk information but also the system service structures. It is ideal for making a backup image of an entire hard disk (including GPT-discs!) or system partitions to guarantee the operating system's working capability
-Differential backup to a sector image to only archive changes since the last full sector-based image, thus considerably saving the backup storage space. To restore this kind of backup you will require a full image and one of its differentials
Restore Facilities
-Restore an entire disk, separate partitions image
-Restore with Shrink to restore a backup amount of actual data of the image
-Create bootable USB Flash drive, CD or DVD to recover your PC on demand
-Advanced Backup Tasks
Supported Operating Systems
Windows 7 (32/64-bit)
Windows Vista (32/64-bit)
Windows XP Professional SP2 (32/64-bit)
Windows XP Home SP2
Windows 2000 Professional SP4
For server operating systems backup see
Paragon Drive Backup Server Edition
These are just a few features of Paragon Backup & Recovery, you can download it or read more here.
Exist also a more sophisticated commercial program named Backup & Recovery 10 Suite, a disaster recovery and system migration solution for home.
Another good backup & recovery program that I use myself is Acronis® True Image Home , having a lot of features as :
-Try&Decide®
Safe environment for risk free testing of new software or visiting websites with potentially dangerous content.

-Image Encryption with AES
Protect your backup data by encrypting with industry standard security tools.
-Acronis Secure Zone®
Protect your system by saving an image to a special partition on your hard disk where it can be accessed when the system needs to be restored.
are only a few of them.
The program supports also add-ons like Acronis® Online Backup , which is able to secure up to 250GB of data backed up online.
Another imaging program for your harddisk is DriveImage XML V2.13
System Requirements: Pentium Processor – 256 MB RAM
Windows XP, 2003, Vista, or Windows 7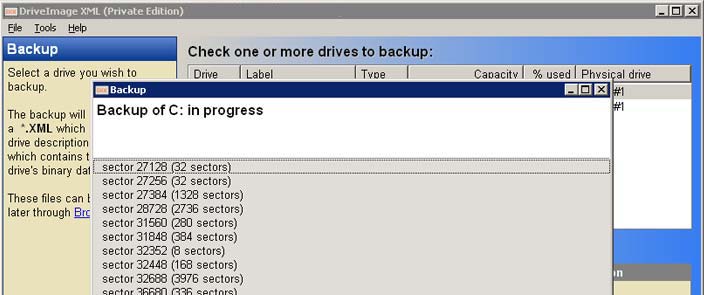 Features :
Backup logical drives and partitions to image files
Browse images, view and extract files
Restore images to the same or a different drive
Copy directly from drive to drive
Schedule automatic backups
Run DriveImage from WinPE boot CD-ROM
Image creation uses Microsoft's Volume Shadow Services (VSS), allowing you to create safe "hot images" even if your drives are currently in use. Images are stored in XML files, allowing you to process them with 3rd party tools if needed. It is able to restore images to drives without having to reboot.
Read more or download from here.
[EDIT]
Another good alternative for Windows System Restore is RollBack Rx. See also this article for fresh informations.